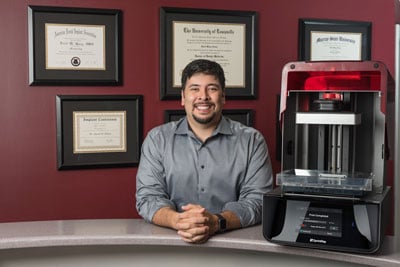 Dr. Honey grew up in Paducah, Kentucky. He graduated from Murray State University with a Bachelor of Science, majoring in Chemistry and with a minor in Biology. He then continued on to Dental School at the University of Louisville, where he met his future wife, Oana.
Upon graduation, Dr. Honey worked for a couple of large dental practices in Minneapolis and Naperville. During that time, he gained significant hands-on dental experience, but he felt that he needed to be able to make practice management decisions for the best dental care of his patients. In 2008, he took over this wonderful Libertyville practice.

Since then, his focus has been to bring the latest technology in order to provide excellent dental care. 3D cone beam imaging, digital scanning, 3D printing and same day crowns with Cerec are just some of the latest technological advances that are used everyday in the office. Numerous times, he has given lectures to fellow dentists on the 3D printing uses in dentistry and has been a Cerec mentor to colleagues.
During his time away from the office, Dr. Honey spends time with his wife and 4 children, and enjoys time in the outdoors.