No more temporary crowns and multiple visits! CEREC (Chairside Economical Restorations of Esthetic Ceramic), is a breakthrough computerized 3D technology that allows Dr.Honey to create custom same day crowns right here in our office.  It is estimated that less than 15% of dentists in the country have this technology in-office and still must rely on outsourcing their work.  We are able to maintain the high quality and excellence you deserve by performing each step right here.
A crown is a porcelain cap that covers the tooth, restoring strength and beauty while protecting it from further damage caused by decay or other devastation. In the past, the only way to fabricate a custom fitting crown was through an outside dental lab. This can often take days or weeks to complete and usually requires at least two appointments. CEREC dental technologies allow our dental team to create custom porcelain crowns in-office, saving our patients time and money without compromising the strength and beauty of their restorations.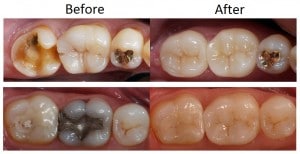 CEREC crowns are designed to naturally blend with your existing teeth. The process begins by preparing your tooth and taking a digital impression of it. This is much more comfortable than gooey mold impressions of traditional crowns, and only takes a couple of minutes.
Once the digital impression is complete, our CEREC machine will mill your crown in as little as 30 minutes, creating your new restoration that will be placed during the same visit.  This will allow you to take less time away from your busy schedule by not having to return to the office for a follow-up visit.  Our patients also report less sensitivity and the ability to go ahead and eat on their new crown much more quickly with this process.